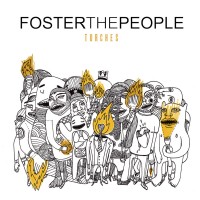 Foster the People is a band that made it big this summer with their first hit "Pumped up Kicks" off their album Torches.
Mark Foster is the lead singer, writer and guitarist for the group. When interview he said that he likes to write songs that are "true to life" - about real topics and situations. And although the music is quite dance-able and happy the lyrics are often quite depressing.
For example - "Pumped Up Kicks" is about a homicidal teen who smokes and steals.... not exactly happy but hey! I can dance to it :)
Although they're considered genre bending spanning indie, dance, and pop. They're wiki page calls their music "melodic dance-infused pop and rock". Foster has written songs in pop, indie, electronic, and piano genres.
They've been nominated for Best New Artist, Artist of the Year, Best New Act and a few other variations of being awesome at the Grammy's, MTV Music Awards, and BRIT Awards.
My favorite song is "Houdini" and you can check them out
here!
I give Foster the People 4 out of 5 stars. Their next album will tells us if they have staying power and possibly up their rating.